Reincarnation: Holiday from Hell (HFH) was a scrapped game that was worked on between 2010-2011. With a total of ten scenes, it would have been the fourth full game in the series. It was supposed to be released after The Final Happy Hour, which would have made it the thirteenth installation. Instead, that honor went to Bloody Bayou. This game, along with Resorting to Evil, are the only known scrapped games. It is unlikely they'll ever be finished.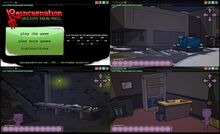 Ad blocker interference detected!
Wikia is a free-to-use site that makes money from advertising. We have a modified experience for viewers using ad blockers

Wikia is not accessible if you've made further modifications. Remove the custom ad blocker rule(s) and the page will load as expected.